Saturday, 13 May 2023 - Reported by Marcus
The BBC has released a new trailer for Doctor Who revealing the titles of the three specials to be screened later this year.
Moments before the Eurovision Song Contest Grand Final came live from Liverpool, viewers were treated an explosive new trailer which gave viewers a glimpse of what to expect later this year when the TARDIS lands in time to celebrate its 60th anniversary, and it exclusively revealed the titles of the three special episodes.
In the weeks leading up to the Eurovision Song Contest Grand Final, three mysterious coded teasers were scattered through the BBC One schedule. Each teaser included a binary code which gave eagle-eyed fans clues to one of the three special episode titles. The teasers all pointed to a big reveal on the night of the Eurovision Grand Final when the new trailer announced the titles as:
· Special One: THE STAR BEAST
· Special Two: WILD BLUE YONDER
· Special Three: THE GIGGLE
The exclusive trailer also gave a look of what's to come with David Tennant as the Fourteenth Doctor, alongside Catherine Tate who has reprised her role as Donna Noble, with further teasers of other epic moments which include leading stars Neil Patrick Harris and Yasmin Finney who step into the world of Doctor Who for the 60thanniversary special episodes.
Russell T Davies, Showrunner said:
The titles are just the beginning of the Doctor's biggest adventure yet. Autumn is coming, with three hours of danger, Donna and disaster about to be unleashed!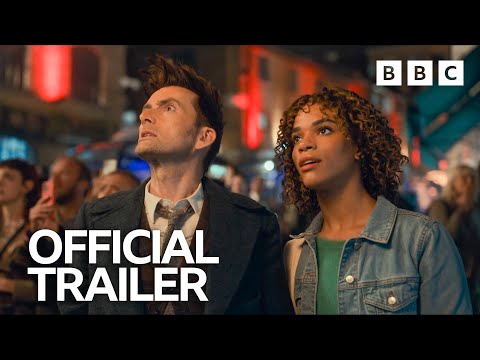 Doctor Who 2023 - 60th Anniversary Specials Trailer | BBC

Doctor Who returns with three special episodes ❤️❤️➕🔷