Saturday, 1 October 2022 - Reported by Marcus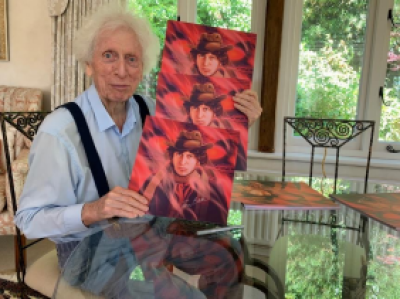 Demon Records is to release Demon Quest, the second in a series of Fourth Doctor audio adventures, on vinyl.
The limited edition stars Tom Baker as the Doctor and is the sequel to Hornets Nest which saw the return of Tom Baker to the role of the Doctor after many years.
Demon Quest was originally released on five CDs by BBC Audiobooks between September and December 2010. Written by Paul Magrs, it stared Tom Baker as the Fourth Doctor and Richard Franklin as Captain Mike Yates.
Every copy of the vinyl edition includes an exclusive, frameable portrait of the Fourth Doctor, hand signed by Tom Baker himself.
An intricately die-cut, removable outer sleeve reveals a Demonic lidded box, inside which are 10 individual illustrated LP sleeves featuring full cast and credits for each of the five stories.
The Time Lord's encounters with the mysterious Demon are detailed in The Doctor's Journal, a large 16-page full-colour booklet featuring notes and illustrations from this epic pursuit through Time.
Presented across 10 x 140g alternating Red and Black vinyl discs, this full-cast audio adventure also stars Susan Jameson as Mrs. Wibbsey.
The supporting cast includes Nigel Anthony, Samuel West, Jan Francis, Trevor White, Lorelei King and Finty Williams, and original sound design accompanies the familiar Doctor Who theme from the BBC Radiophonic Workshop.
When key components from the TARDIS are stolen in exchange for a bag of strange curios, the Doctor and his housekeeper Mrs Wibbsey are reunited in adventure. Each object leads the unlikely friends, along with the trusty Mike Yates, to a place and time where danger awaits them. As their pursuer's net closes around the Doctor, he realises that the mysterious Demon is in thrall to a much higher power…
The discs will be released on 2nd December 2022