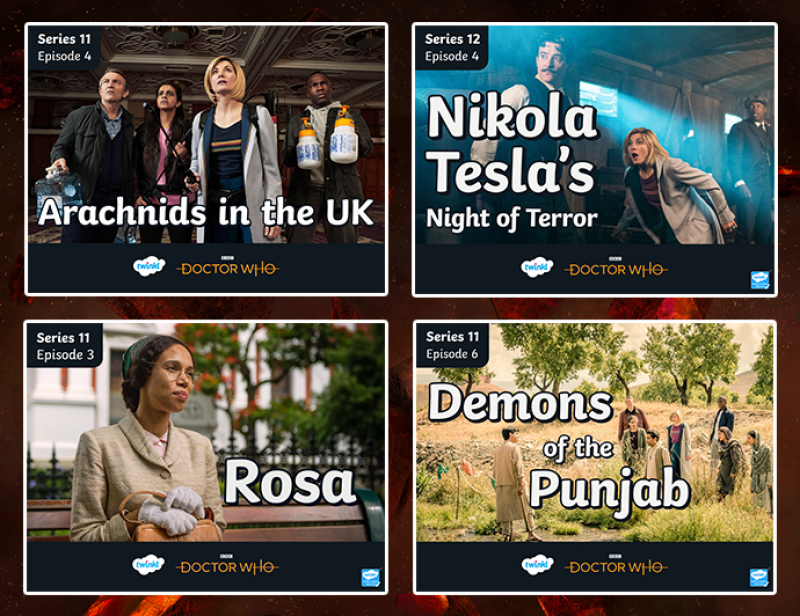 Doctor Who - Twinkl (Credit: BBC Studios)
The global educational publisher
Twinkl
has partnered with
BBC Studios
to create a range of educational Doctor Who resources for children between seven and eleven years old.
These are the first-ever Doctor Who educational resources to be linked to the UK national curriculum. The resources include activity sheets, interactive presentations and reading comprehensions based around several episodes from series 11 and 12 of Doctor Who. These resources can be used separately or alongside episodes and link the Doctor's adventures to units of study for school years three to six.
Covering core subjects including science, geography and history, the materials introduce children to figures such as Rosa Parks, Nikola Tesla and Thomas Edison, and teach them about subjects such as the Indian partition, artificial intelligence and animals and their ecosystems. Children are also encouraged to explore the different uses of electricity and the many forms it takes, as well as how to remain safe when using electrical equipment around the home.
Free to use and accessible to everyone, the resources can be downloaded through the
Twinkl website
and are a valuable teaching tool for teachers, parents and carers. Twinkl's mission is to help those who teach and the company offers over 640,000 teaching and learning materials on its website, which are all teacher created and checked.
The company has recently created a bespoke Home Learning Hub, full of daily activities and materials, to support parents, teachers and carers with home learning.
Vanessa Hamilton
, Head of Brand, Doctor Who, BBC Studios, said:
We're delighted to be partnering with Twinkl to create Doctor Who educational resources for children across the world. Doctor Who has been inspiring and entertaining children for generations, so we're thrilled that we can bring this much-loved series to the classroom in an educational and engaging way.
Jonathan Seaton
, CEO and Co-Founder, Twinkl, said:
Working with BBC Studios to create this exciting range of Doctor Who learning materials has been out of this world! We are always looking for new ways to help those who teach, and hope that these resources provide teachers, parents and carers with a unique new way to engage children in learning.

We know that now more than ever parents are looking for ways to help children learn at home and hope that the Doctor Who resources will be a big hit in households and at schools right now, as well as far into the future.