Thursday, 14 September 2023 - Reported by Marcus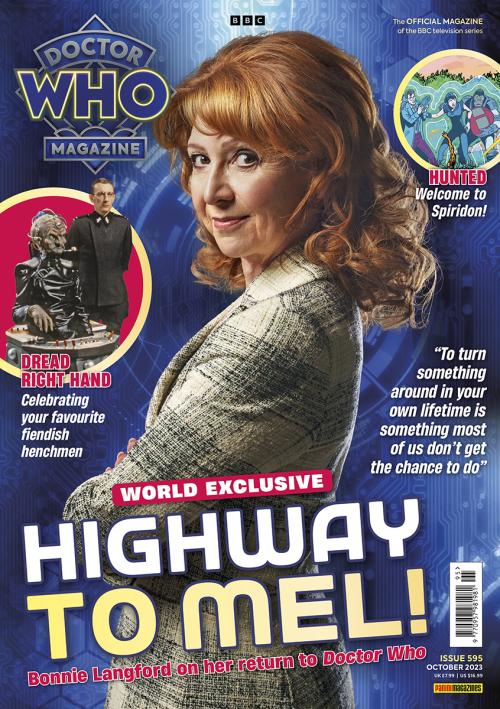 Doctor Who Magazine, Issue 595 features returning companion Bonnie Langford on the cover.
Highlights in the magazine include:
Highway to Mel – in her first major interview with DWM since her return to Doctor Who was announced, Bonnie Langford talks exclusively about reprising the role as Melanie Bush opposite Ncuti Gatwa's Fifteenth Doctor.

Letter from the Showrunner – Russell T Davies shares his reactions as he watches the finished version of The Star Beast, the first of this year's Doctor Who Specials.

We Need to Talk About Mel Bush – a compelling argument as to why Mel is the most underrated companion of all time.

Dread Right Hand – what makes a great sinister assistant in Doctor Who, and how do they get their dirty work done? DWM investigates…

Web Slingers, Surfers and Time Lords – acclaimed comic-book writer Dan Slott on his debut Doctor Who graphic novel, Once Upon a Time Lord.

The Butterfly Effect – DWM talks to Emily Cook and finds out how a virtual event during lockdown snowballed into something that would change the course of Doctor Who history.

Game designer Gavin Verhey and art director Matt Cavotta reveal how they combined fantasy trading card game Magic: The Gathering with Doctor Who.

Production Diary – script editor Scott Handcock files his latest report, direct from Doctor Who's HQ.

Welcome to Aladdin's Cave – brand asset manager Jonathan Davies on how it feels to have 60 years' worth of Doctor Who props, costumes and assets at his fingertips.

Liberation of the Daleks Part Twelve – the adventures of the Fourteenth Doctor continue in the epic comic-strip adventure written by Alan Barnes and illustrated by Lee Sullivan.

60 Objects, 60 Years – the latest instalment of the series that tells the story of one object from every year of Doctor Who's history.

The Fact of Fiction unlocks the secrets of the Sixth Doctor's final episodes, The Trial of a Time Lord Parts Thirteen and Fourteen.

Gallifrey Guardian – all the latest official news.

Other Worlds – the essential guide to new stories in Doctor Who's expanded universe.

Previews, reviews, prize-winning competitions, Time and Space Visualiser and more.
Doctor Who Magazine Issue 595 is on sale Thursday 14 September from panini.co.uk and WH Smith priced £7.99 (UK).
Also available as a digital edition from pocketmags.com priced £6.99.